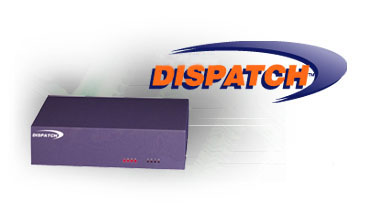 Vertical Dispatch or TalkPath Voice Mail
Home | STSe | DHS | Analog Electronic Key Systems | Starplus Digital
---
The way incoming calls are handled can make or break a growing business. You need to ensure that calls are correctly routed and messages are reliably delivered. You need to know that callers can get through during busy times and off hours. You understand that hiring an operator or receptionist to answer the phone 24 hours a day, 7 days a week would cost a small fortune. You realize you need a voice messaging system, and you want a system that is fully featured yet affordably priced. Well the Vertical Dispatch is the answer!
Compact, Economical
Vodavi Dispatch is a self-contained voice processing system that delivers large capability in a compact and economical package. With two to eight ports, a minimum of 100 hours of storage time and an unlimited number of menus and voice mailboxes, Dispatch is the perfect choice for the small- to mid-sized organization. Plus, Dispatch can grow as your needs grow - the system can start as small as two ports and expand up to 8 ports.
Simple, Versatile Voice Mail
Custom call-routing lets you tailor options and menus to your site. Users can easily customize personal greetings to convey availability based on time of day, day of week, or as-needed. And, up to 100 system-wide distribution lists can be set up by the administrator, plus users can program up to nine personal distribution lists per mailbox.
Automated Attendant
Dispatch can manage communications without a live operator. Dispatch will greet callers with an introduction, ask them to enter an extension or select from options, and even ask for the caller's name before transferring so the recipient can screen the call. Dispatch can park a call in a hold location and announce the call over your in-house paging system. Dispatch can also inform a caller to a busy station where they are located in the station's queue ("third in line"). Plus, Dispatch can provide frequently requested information such as directions to your facility.
Easy Administration
Dispatch's Windows-based set up screen makes installation and administration a snap from a laptop computer, or programming can be done from a telephone set, even from an off-site location. With the "Quick Pick" list, integration with several popular telephone systems is easily implemented. Mailboxes, messages waiting strings, transfer strings, and time of day greetings are automatically implemented.
STARPLUS Dispatch Highlights
Automated attendant for operator free call answering and transfer
Two, four, six, or eight ports
Easy to upgrade in two-port increments
Automatic configuration of integration with common telephone systems
Unlimited number of mailboxes
100 hours of storage
System set up and administration via a telephone set or laptop PC
Windows-based setup and database administration software
Automatic Fax Detection routes incoming fax to fax extension
Park and Page option announces unanswered calls over in-house paging system
Call Queuing informs callers of their location in a queue
Custom call routing allows creation of site-specific menus
Request extensions with convenient dial-by-name feature
Flag messages with special delivery options
Dispatch Administrative Conveniences
Automated attendant for operator-free call reception and transfer on all or selected lines and times
System administration by telephone and laptop PC
Windows-based GUI Administration Module
Audiotex for automated delivery of frequently requested information
Automatically set up most popular telephone systems with Quick Pick list
Unlimited number of menus available
Unlimited number of mailboxes
Minimum of 100 hours of voice storage
Lower-port configurations can be upgraded at any time without a complete re-installation
Remote administration
Multiple time-of-day configurations for each class of service, mailbox, menu, or extension
Up to 100 system distribution lists
Administrator can log into any mailbox to perform maintenance
Cascade mailbox and paging (automatically send a copy of received messages to other mailboxes)
Broadcast messages to all mailboxes
Fax detect and transfer
Park and page
Set time and date
Recover deleted messages
General delivery mailbox
Print or view system administration reports
Access code reset
Add/delete mailboxes
Dispatch User Conveniences
First-time user tutorial for easy mailbox setup
Password protection
Multiple messaging options including private, urgent, future delivery, and confirmation receipt
Messages can be played faster, slower, louder, softer, or skipped
Each message can either be replayed, saved, deleted, forwarded or replied to with annotation
Date/time stamp and sending mailbox ID on every message
Caller ID information supplied with each call - Available on the Digital Dispatch only
Multiple greetings per mailbox, including standard, temporary, busy, and time-sensitive
Up to nine personal distribution lists per mailbox
Confirmation on message deletion
Call screening, with calling party name played to mailbox owner who can then accept, reject, or forward the call to another extension
Address by name or mailbox number
Re-record message option
Unheard message reminder
End of recording warning
Return to personal operator
Delete sent message if unheard
Dispatch Technical Specifications
Completely self contained unit contained in a 2 5/8" x 10" x 13 1/2" housing
Digital Signal Processing (DSP)
Channel activity monitor LEDs (Light Emitting Diodes)
Up to 8 phone jacks for telephone system interface
Serial port for laptop PC administration
External power supply
Time and date programmable via phone or PC (Personal Computer)
Dispatch Purchase Options
2, 4, 6 or 8 ports
Quick Reference Cards and User Guides
Port upgrade kit
Starplus Dispatch Features and Benefits
---
| Feature | Application | Benefit |
| --- | --- | --- |
| Windows Database Administration | Laptop administration program is a Windows-based software program for set-up and maintaining the system. Only one floppy diskette is involved; compatible with Windows 3.1/95/NT. | Familiar icons in Windows environment allow point-and-click instructions for quicker installs. |
| System Scalability | System covers 2- to 8-port applications; upgrades are easily added to expand the unit to capacity. | Small businesses can easily accommodate growth to 8 ports without a loss of initial investment. |
| Auto Integration | System menu can automatically configure itself for integration with popular (60+) telephone systems. | Eliminates the guesswork and reduces the administration time involved when installing the system behind a Vodavi or non-Vodavi telephone system. |
| FAX Detection | After reaching the Auto Attendant, an incoming fax may be pre-routed to a designated fax extension. | Reduces the need for a separate inbound fax line in a small office environment; faxes go through on initial attempt without interruption. |
| Park and Page | When a call arrives at an unanswered station, an option is presented to the caller which will announce the name over the in-house paging system. | Critical calls are handled as mobile staff can be located quickly and efficiently. |
| Call Queuing | System will announce to incoming callers where they are positioned ("third in line") to a busy station. | Presents time-saving information to clients who may not be able to hold. |
| Custom Call Routing | Powerful system flexibility allows call routing to be created on a per-site basis, customized to the customer's needs. ("Sales press 1, Service press 2, or directly dial extension...") | Caller input routes the calls rather than an operator; call flow is based on customer-specific applications. |
| Dial by Name | Incoming callers can request specific extensions or use the Dial by Name capability to reach an unknown mailbox. | User-friendly assistance offered to potential new clients; prompts for forgotten extension numbers. |
| Unlimited Mailboxes | Based on the individual numbering plan, the number of system mailboxes offers complete flexibility for standard, guest, and bulletin board mailboxes. | Accommodates expanding needs of call-intensive businesses. |
| Send Options | System supports a variety of message options in marking calls confidential/urgent/future delivery. | Provides useful options to external and internal callers in appropriately processing voice communication. |
Features may vary based on the capabilities of the telephone system supporting STARPLUS Dispatch.
Features and specifications are subject to change without notice.

Frequently Asked Questions (FAQ's)
Home | STSe | DHS | Analog Electronic Key Systems | Starplus Digital