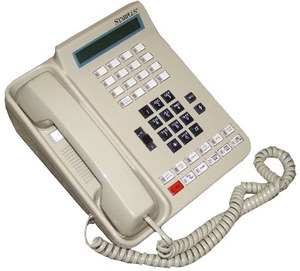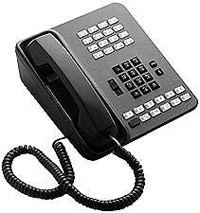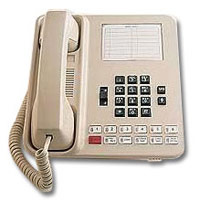 Starplus Analog Electronic Key Systems
Home | STSe | DHS | Dispatch | Starplus Digital
---
The Starplus Analog KSU (Key Service Unit) is available in 5 different sizes. They are the 3-08, 6-16, 12-24, 24-48 and the 40-96. The 3-08 supports up to 3 lines and 8 stations and is the perfect starting point for any small business. The 6-16 supports 6 lines and 16 stations and adds additional enhanced features (including display telephone capability). The 12-24, 24-48 and 40-96 provide additional incoming lines and stations to accommodate even larger office environments.
All three models of STARPLUS Electronic Key Telephones are available in your choice of six colors (black, burgundy, gray, white, green and ash):
Basic - 14 button key telephone provides features such as call announce intercom, paging and on-hook dialing.
Enhanced - adds a full speakerphone and has 30 buttons for accessing lines and features.
Executive - Includes 30 feature buttons, as shown above, and adds a 48-character LCD display.
---
Electronic Key System Features
| User Productivity | 308EX | 616 Flex | 1224EX |
| --- | --- | --- | --- |
| Call Announce Intercom | X | X | X |
| Call Back/Busy Station Queuing | | | |
| Call Forward, All Calls - When Busy & No Answer | | | |
| Call Pick Up - Group Announce | | X | X |
| Camp-On & Call Transfer | X | X | X |
| Conferencing Multi-Line & Add-On | X | X | X |
| Do Not Disturb Mode | X | X | X |
| Flexible Button Programming | | X | X |
| Head Set Compatible | X | X | X |
| Head Set Mode - User Programmable | | X | |
| Interactive Display - Executive Key Telephone | | X | X |
| Intercom Mode Selector | X | X | X |
| Internal Paging - Zone or All Call | X | X | X |
| Meet Me Page Answer | X | X | X |
| Message Waiting with Reminder Tone | X | X | X |
| Mute Button for Speaker Phone and Hand Set | | X | X |
| Preset Text Messages | | | |
| Station Speed Dialing | 10 | 20 | 20 |
| Universal Night Answer | | X | X |
| User Programmable Name and Display | | X | |
| System Administration | 308EX | 616 Flex | 1224EX |
| --- | --- | --- | --- |
| Attendant Programmable System Speed Dialing | 40 | 40 | 40 |
| Attendant Programmable System Date & Time | | X | X |
| Key Telephone Programmable System Data System | X | X | X |
| On-Line System Programming | X | X | X |
| Communications Cost Control | 308EX | 616 Flex | 1224EX |
| --- | --- | --- | --- |
| Account Codes for SMDR | | X | X |
| CENTREX/PBX Dialing Codes | X | X | X |
| Forced Account Codes | | | |
| Least Cost Routing | | | |
| Least Cost Queuing | | | |
| Separate Day & Night Class of Service | | | |
| SMDR Output for Call Accounting | | X | X |
| Toll Restriction/Dialing Privileges | X | X | X |
| Customized Call Processing | 308EX | 616 Flex | 1224EX |
| --- | --- | --- | --- |
| Automatic Night Mode | | | |
| Executive/Secretary Transfer | X | X | X |
| Music On Hold/Background Music Interface | X | X | X |
| Preset Call Forwarding/Overflow Ringing | X | X | X |
| Privacy, Programmable by Station & CO Line | | | |
| Privacy, Programmable by System | X | X | X |
| Recorded Announcement Interface | | | |
| Station or Pilot Hunt Groups | | | |
| Uniform Call Distribution Groups | | | |
| UCD Agent Unavailable/Available | | | |
| UCD Agent Wrap-Up Timer | | | |
| UCD Calls in Queue Display | | | |
| Voice Mail Integration | | | |
| Attendant Control | 308EX | 616 Flex | 1224EX |
| --- | --- | --- | --- |
| Attendant Disable Out-Going Calls | | | |
| Attendant Override/Barge-In | X | X | X |
| Multiple Attendant Operation (Up to 3 Positions) | | | |
| Night Service Control | X | X | X |
| One Touch Call Transfer & Busy Station Indication | X | X | X |
| Recall for Transferred Calls & Calls On Hold | X | X | X |
| Optional Features | 308EX | 616 Flex | 1224EX |
| --- | --- | --- | --- |
| External Paging Interface | X | X | X |
| Off Net Call Forwarding | | | |
| Off Premise Extensions | | | |
| Phone Box/Door Intercom Box | X | X | X |
| Remote Programming & Maintenance | | | |
| Single Line Telephone Interface | X | X | X |
| Unsupervised Conferencing | | | |
Frequently Asked Questions (FAQ's)

Home | STSe | DHS | Dispatch | Starplus Digital