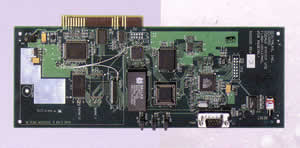 Vodavi In-skin Voice Mail
Home | STSe | DHS | Analog Electronic Key Systems | Starplus Digital
---
Voice Mail System facts:
The way incoming calls are handled can make or break a growing business. You need to ensure that calls are correctly routed and messages are reliably delivered. You need to know that callers can get through during busy times and off hours. You understand that hiring an operator or receptionist to answer the phone 24 hours a day, 7 days a week would cost tens of thousands of dollars per year. You realize you need a voice messaging system, and you want a system that is fully featured yet affordably priced. Well the Vertical Voice mail is the answer!
There are two In-Skin Voice Mail Solutions for the STARPLUS STSe and the XTS phone system KSU's. The first is the Flash based voice mail card as shown above. The other is the hard drive based voice mail card.
STSe In-Skin Flash Voice Mail – This voice mail system is a relatively inexpensive option for any small business. It plugs right into the phone system itself, eliminating the need for more expensive external equipment. This 8-port system has 64 mailboxes and 3 hours of message storage, expandable to 9 hours.
Key Features:
Dial-by-Name Auto-Attendant – Allows callers to direct themselves to the appropriate person without the help of an operator.
Menu Routing – Route callers more efficiently (Example, for sales, press 1, for accounting, press 2, for service press 3, for tech support press 4, etc.) Up to 5 menus are available.
RAN Announcements – Play messages to your callers while they are waiting to speak with someone.
Fax Tone Detect – Automatically detects an incoming fax and forwards it to a designated fax machine.
Message Wait Light – Light indicates new voice mail messages while the display indicate the number of new messages, saved messages and urgent messages.
Message Forwarding – Direct messages to the proper people quickly and efficiently within your company.
Call Forwarding – Have incoming calls forwarded directly to your mailbox. Users can program this themselves without having to consult the system administrator.
Pager Notification – Users can choose to be paged if there is a new message in their mailbox. digits)
Remote Access – Check your voice mail messages from any touch-tone phone in the world.
Live Call Screening Option – (Answering Machine Emulation) Listen to messages as they are being recorded and pick up the phone if you want to speak with the caller.
Change Personal Greetings – Recorded name, personal greeting, and temporary greeting are controlled by the user.
Automatic Date and Time Stamp – The time and date of each message will be played.
Password Control – Change the mailbox password at any time.
One-Touch Record – Record live conversations and save them in your own mailbox.
The MiniVoice Voice Mail system has features which are similar to the In-skin Flash based Voice Mail system. The only difference is that the MiniVoice is an external voice mail unit which can integrate with other phone systems such as the DHS, Infinite, Triad and XTS.
In-Skin Hard Drive based Voice Mail – The Hard Drive based In-Skin Voice mail has the same features as the In-skin Flash based voice mail system shown above but it includes an enhanced feature set. It has more storage capacity with up to 200 hours of recording time. This system also has an unlimited number of mailboxes and menus to support larger workgroups and applications.
Some additional features include:
Cell Phone Notification
Cascading Menus
Flag messages with special delivery options
Incoming Caller ID capability
Park and Page
Vertical Communications In-Skin Voice Mail Features Compared:
| | | |
| --- | --- | --- |
| Feature | In-Skin Flash | In-Skin Hard DD |
| Capacity | 3-9 hrs | 200 hrs |
| Mailboxes | 64 | Unlimited |
| Ports | 8 | 8 |
| Answering Machine Emulation | Yes | Yes |
| Automated Attendant | Yes | Yes |
| Automatic Routing | Yes | Yes |
| Cascading Menus | No | Yes |
| Cell Phone Notification | Future | Yes |
| Dial by Name | Yes | Yes |
| Fax Detection | Yes | Yes |
| Flag messages w/special delivery options | No | Yes |
| Incoming Caller ID | No | Yes |
| Menu Routing | Yes | Yes |
| One Touch Record | Yes | Yes |
| Pager Notification | Yes | Yes |
| Park & Page | No | Yes |
| Password Protection | Yes | Yes |
| RAN Announcement Mailbox | Yes | Yes |
| Smart Transfer | Yes | Yes |
| Time & Date Stamp | Yes | Yes |
| Voice Messaging | Yes | Yes |
Features may vary based on the capabilities of the telephone system supporting the voice mail system.
Features and specifications are subject to change without notice.
Frequently Asked Questions (FAQ's)
Home | STSe | DHS | Analog Electronic Key Systems | Starplus Digital